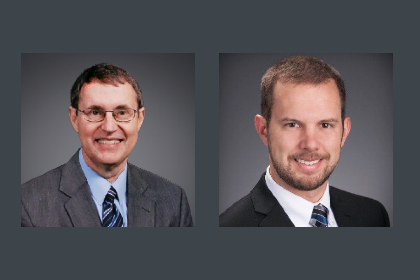 Kotz Sangster Wysocki P.C., a leading Michigan law firm, welcomes two new lawyers, William "Bill" Engeln and Jordan D. Florian, to its offices in Southwest Michigan. Engeln will be practicing out of the firm's St. Joseph office while Florian joined Kotz Sangster's South Haven office in December of 2020. Both additions reflect the firm's continued growth in Southwest Michigan's legal community, enhancing their full-service family and business law offerings in the area.
Engeln, who most recently practiced law at Burdick & Engeln, PLC, chose to merge his practice with Kotz Sangster following his partner's retirement. He will join the Kotz Sangster team as Senior Counsel, assisting clients in matters of contract drafting and negotiation, probate and trust administration, real estate sales and acquisitions, estate planning and more. He graduated from the Northwestern University School of Law, cum laude, in 1980 and brings nearly 40 years of experience to St. Joseph's Kotz Sangster team.

Florian joins Kotz Sangster as an Associate, assisting clients in areas of commercial litigation, administrative law, contracts, estate planning, environmental law and more. As the newest member of the Kotz Sangster South Haven office, he will practice in conjunction with Andrew Barnes, a Shareholder and member of the Kotz Sangster team since 2012. Florian is licensed to practice law in both Michigan and Indiana, having graduated cum laude from Valparaiso University's School of Law in 2017.
"We're grateful for the new additions to our Southwest Michigan offices. Bill and Jordan both bring unique areas of expertise to our team that will greatly benefit our clients and the communities we serve," said Mitt Drew, Shareholder and Managing Director of Kotz Sangster's Southwest Michigan offices. "We know that the addition of their knowledge and commitment to service will strengthen our team, allowing us to better serve our communities."
Anne Kirkpatrick, Bill Engeln's long-time legal assistant, will also join and support the St. Joseph team, continuing her superior support for Bill's clients. All three legal professionals will help further enhance the firm's legal offerings to the Southwest Michigan communities they serve.
About Kotz Sangster
Kotz Sangster is a full-service family and business law firm, serving clients across Michigan with responsive service, excellent legal advice and winning solutions. Founded in 1978, the firm has offices in Detroit, Bloomfield Hills, Rochester Hills, Grand Rapids, Rockford, Niles, South Haven and St. Joseph.