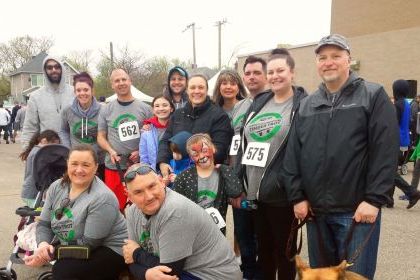 Benefiting education and a one square mile community on Detroit's east side, the Hantz Foundation Timber Trot was held on Saturday, 4 May 2019. Kotz Sangster proudly participated in the fourth annual event as a sponsor. Firm employees, their families and friends (plus three dogs) ran and trotted in the 5K on a brisk morning in support of the nonprofit foundation.
Attorney Rob Goldi once again championed the cause. The day's activities are designed to improve and support the areas around three schools, focusing on community transformation. Participants this year were 500 strong, with Detroit's police officers situated all along the race route, cheering on the runners and walkers.
Kotz Sangster participants joined with employees from Hantz Bank, school organizations, and numerous other groups and individuals for a fun-filled day throughout the Hantz Woodlands, where 25,000 trees have been planted since 2013. Hantz Woodlands continues removing blight, demolishing abandoned structures, repairing properties and improving the area with the help of the residents. At the same time, the Hantz Foundation's goal is to engage the community through education, notably assisting schools in the area through programming efforts, thus connecting students to high-quality education, resources and career opportunities that are stepping stones for future success.
Those comprising Team Kotz Sangster included attorney David de Reyna, running with his dogs, Cooper and Layla, Lindsey Pfund with Michael Hall and their children, Ben and Madison, attorney Derek McBride with his dog, Sampson, Crystal Kuczborski and her husband, Steve, with their two children, Rivers and Beau, Marlene DeLorme with her husband, Jeff DeLorme, Ashley Clark with Ben Taylor and her daughter, Magnolia, and Sherry Beaupré.